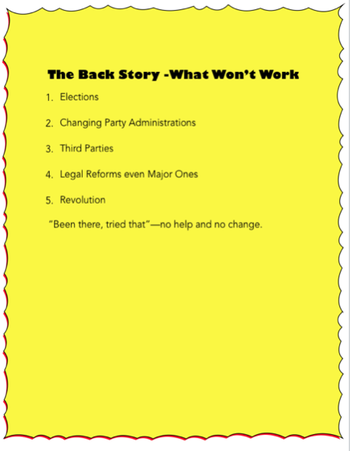 Nearly every sentient human being has been exposed to the quirks, defects, limitations, and ugly personality traits of Donald Trump. By all reasonable measures he is one of the most unfit persons in the world to be elected president of the world's greatest nation.
 Nevertheless, he is supported by millions of Americans and has a good chance to be elected.
 This concept sounds as crazy as anything but only because most people are acting and thinking on a literal level. They can't understand how anyone could support such a character for the presidency.
 A better perspective is one which realizes that those multi million supporters of Mr. Trump have been dumped on for all of their lives by a political elite which has taken for granted its ability to dominate them--the "little people."  They feel the pain and humiliation intensely and despite a lot of efforts (as itemized in the graphic here)  nothing good has happened for them  in the political-economic sphere in America, and they have no good reason to think that anything good will ever happen to them.  And, they are right.
 So, they have two options: 1. Continue to accept pain, humiliation, and degradation without a realistic chance of change or, 2.  Give the political elite a "poke in the eye." That's where Mr. Trump comes in – he is simply giving a poke to the establishment.
 That "poke in the eye" ultimately will not fix their political-economic status and electing Trump almost certainly will make their lives very much worse. Nevertheless, giving a poke in the eye to the political elite has an overwhelming appeal. That's their motivation. Forget about the literal, rational level of analysis. It is irrelevant.
 But, the "little people" can have a positive option. That option is the Cational character Program articulated in An Action Manual. They need a new set of influencers, cue-givers, and leaders who understand what they need and want, and what most Americans want, to guide them in a new direction.